FEATURE VEHICLE
The Feature Mopar this month is a 1958 Dodge Power Wagon "Townie".
Here is a little bit about the history of my 1958 dodge Power Wagon Town Wagon or "Townie" as they are called by the people in the hobby. This truck is part of the power giant series 1957-1960. The rear section is the same for all years, however dodge changed the doors, front fenders, and stainless trim design each year it was made. As with any MOPAR it's all about the options I constantly look for dealer demonstrator trucks, there were few made, and fewer exist today. My 1958 Townie is a dealer demonstrator. I know of only one other truck like it. They basically have every option available that year and were given to the top dealers in the country, or were on display at the auto shows of that year. The chrome grill gaurd, chrome tissue dispenser, and dragon hooks are being installed now..they are not in the video. However, watch the video, and look through the image event of the RESTO process. My truck has the one year only ranch brown paint ....which is an additional bonus to this already outrageous dealer truck. How did I find it? It showed up on ebay......I contacted the owner within 30 mins of listing, got on the phone..asked him what he wanted...said done, had him pull the auction immediately. Some guy from Canada almost beat me to the punch on this truck. Right place, right time...don't hesitate. Cheers!!!!
A You Tube Video can be viewed of Marc's 1958 Dodge Power Wagon Townie just click the truck.
To View a great restoration of Marc's Townie click the Townie below. A very detailed gallery you can see.
The club site is a (Flash) site so you do need to have Adobe Flash installed on your browser, just click the link as you see it for viewing the cool Mopars on this site. (Click truck below for photos) of Townie.
Photos and the entire rebuild click image now!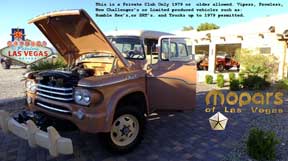 Click
EVENTS - MEETINGS - NEW
Chrysler Performance West April 11th through 12th00

Smilin' Ed attending too
Smilin' Ed News (President)
The site was updated Apri 1st 9:45 PM
The club's Feature Mopar for April is a 1958 Dodge Power Wagon "Townie". I just updated the site and if you click on Marc's Dodge Power Wagon you will be off to You Tube for a spread on his Truck with a cool video! Please check it out. I also have a link of more on this cool Mopar Truck right below Marc's FEATURE VEHICLE story for this month. Just look for the small image button at the bottom and click it. Off you will go for a complete restoration and story too. Marc has a passion of 50's Trucks and cool Mopars. I am glad to have members like Marc in our club.
I just updated Doug Schneider's photo of him and a couple of lady members by his side after his win at MATS. Doug tells me he won the Jackpot Race and won $750.00 Cool! Click on Doug and his Demon to the left to see a proud member! Again I am proud of members like Doug who happens to be a personal friend now for 37 years too. I have known Doug since I was in the Air Force back in 1978. Great job Doug!
The clubs Valley of Fire Run is posted under EVENTS - MEETINGS. Check out the run! I just posted it.
I formed this club in July 2002 with the idea I just wanted a few more cool Mopars to park my 1969 GTX beside. Over the years this club has grown to be known in many states, and also other parts of the world. I have very simple rules in our club with no dues. If you think you want to be a part of us simply contact me. I will be more than happy to send you the club rules to become a part of this "Private Club". Thank you, and enjoy our Mopars! We do! I am Smilin' Ed the President.
Click my (Dash / Headlight) button below to view Smilin' Ed's personal page where I have photos of my 1969 Plymouth GTX and " KRISSY", my 1968 Dodge Dart GTS Convertible. (clone) You can Email me too with the Envelope.