FEATURE VEHICLE
This month's Mopar is a 1970 Dodge Super Bee. Have you seen this Mopar around Vegas? Well it is a part of our club! One of our other members Doug owner of MoParts of Las Vegas, link here:http://www.moparsoflasvegas.net/dougs.html has worked on this cool Mopar and has provided Smilin' Ed the following information about this R/T. It has the following: Fast Fuel injection
March single belt serpentine system
Restomod air A/C system
Edelbrock RPM intake
Edelbrock E-Street heads
Custom cams hydraulic cam
Duration @ .050 250
Valve Lift .502
Engine 440 bored 30 over
JE Pistons 10.3 to 1 flat tops
10-10 steel crank stock rods
HV oil pump with windage tray
Hemi oil pan
TTI headers W/Magna flow 2.5 mufflers
4 wheel disc on all 4s by SSB
Hydro boost braking system
Addco sway bars front and rear
8 3/4 3.55 Sure Grip
727 auto trans with Continental 3000 stall converter. Smilin' Ed has seen this Mopar, I was able to actually witness this motor in Doug's shop too. Photos are coming and will be posted here soon. You will be able to click on the R/T or the club logo below to view the images. Greg (owner) of R/T, a very cool Mopar and an honor to have this one in the club! Thank you.
The club logo below you can click and will open in your browser a FLASH photo gallery.

EVENTS AND MEETINGS
Poker Run with Timbers Bar and Grill is October 22nd! Members you need to check your email for registration information. Be sure to submit your application ASAP. Awards will be presented by Smilin' Ed and VP Shawn after the run! Let's get some Mopars out on the streets soon!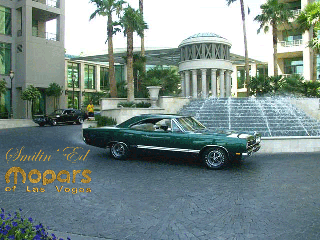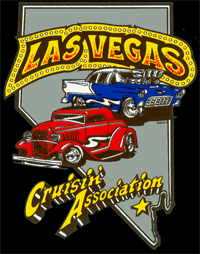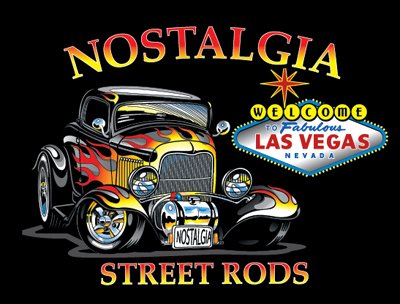 Friends of our club please visit Las Vegas Cruisin' Association and Nostalgia Street Rods. If you love cars click the images for links to their website. Cool stuff! Below is yet another link I created to other clubs in Vegas! Click that logo below for even more. Enjoy Smilin' Ed

Valley of Fire 2015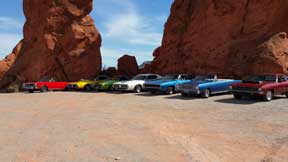 Smilin' Ed News (President)
The site was updated October 5th 10:23 PM
The Feature Mopar for October is a 1970 Super Bee owned by Greg O. Greg also has another cool Mopar that has been featured on the pages here over the years. A 1969 Super Bee. This Mopar has after MANY years I might add, has finally surfaced from his garage! A longtime friend that owns MoParts of Las Vegas has worked wonders on this Mopar too. I have seen Doug's workmanship and heard this motor perform. Greg should enjoy this car for years to come! I hope that being the car is our Feature Mopar for October he will attend the club's "Poker Run" with "Timbers Bar and Grill" October 22nd. This run is for members. Registration is required.
The website has been under construction for a few days but finally I have the 1970 Super Bee posted for viewing. Please just click on the car, or at the bottom of the FEATURE VEHICLE column the clubs log.
I formed this club in July 2002 with the idea I just wanted a few more cool Mopars to park my 1969 GTX by. Over the years this club has grown to be known in many states, and also other parts of the world. As of this date we have 367 vehicles and 228 members in our club and we continue to keep growing! We have very simple rules in our club with no dues. If you think you want to be a part of us simply contact me. I will be more than happy to send you the club rules to become a part of this "Private Club". Thank you, and enjoy our Mopars! We do!
Click my (Dash / Headlight) button below to view Smilin' Ed's personal page where I have photos of my 1969 Plymouth GTX and " KRISSY", my 1968 Dodge Dart GTS Convertible. (clone) You can Email me too with the Envelope. AND... Sit down for those that know me! I have added yes, a Facebook icon for the club's Facebook. Click on it and it's my Smilin' Ed page. If you just need to do Facebook go on out and send me a request and when I get to it I will accept you as a friend if I know you. It is always best to just email me if anyone really wishes to reach me.