FEATURE VEHICLE
Mopars of Las Vegas FEATURE VEHICLE is a 1971 Dodge four speed Super Bee. Sean's story about his Mopar follows: My name is Sean and this is my 1971 Super Bee Charger. My dad gifted it to me for my 30th birthday, almost exactly 47 years to the day he bought it. In 1971 my grandpa bought this car for my dad while he was still going through pharmacy school at UOP in Stockton, California. It was a gift for all the years he worked for free at our family restaurant. He went all out with colored bumpers, 4 speed was picked too and he upgraded to interior bucket seats, air conditioning and even... a clock! I don't know why he didn't get the tach instead. Why not just use a watch to tell the time? Anyways, the 383 Magnum engine is original and still running smooth to this day with only 85,000 original miles, too bad he didn't pay the extra $800 for the Hemi. A few years ago the paint and vinyl top were restored on the exterior but almost everything else has remained original. Luckily my dad saved the build sheet and window sticker from the dealership which I carry in the car. He used to take me to school in this car and I hope one day I can do the same for my kids. Open up Sean's photo gallery now by clicking the Super Bee image below.

Club Meetings now will be (if) cool enough one evening to be announced during summer hibernation of July and August. Where does the time go!
..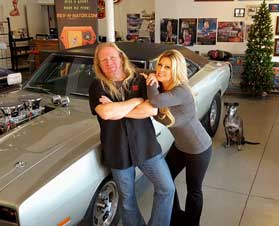 Click on Troy and Laura of "The R/T Garage"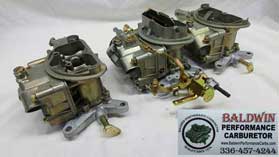 Click Six Pack Carbs to view website of Baldwin Perf.
Smilin' Ed News (Column)
The site was updated July 1st 2018
For the month of July & August we have a 1971 Dodge Super Bee for showing off one of our newest members to our club here in Vegas. Sean was a young boy when his dad bought this car brand new! Please read our FEATURE VEHICLE column and click on the Super Bee or below his story to view images of this wonderful addition to our club. Sean's 1971 Super Bee.
I formed this club in July 2002 with the idea I just wanted a few more cool Mopars to park my 1969 GTX by. I have very simple rules in our club. If you think you want to be a part of the club simply contact me. I will be more than happy to send you the club rules to become a part of this "Private Club".



.. Contact Smilin'Ed by clicking the Envelope or the Facebook icon for the club's Facebook. Wish to become a member? Email me, I will reply with the club rules.