FEATURE VEHICLE
The Feature Vehicle the next two months is one of our members that has one of Mopar's coolest and strongest cars produced. A Viper. The story here is from my member Al: This is my 2016 Viper TA 2.0, a track-focused model. It has a 645 hp aluminumV-10 with forged internals, 1.7 ratio rockers, twin disc clutch, 6-speed Tremec 6060, 3.55 Dana rear, hi-flow cats, 2 mode electronic adjustable shock absorbers, multi-mode traction and stability control, 2-piece light weight brake rotors, very light weight forged Sidewinder 2 wheels, aluminum suspension a-arms, solid, heavy duty sway bars, Pirelli Corsa tires, light weight seats & carpet, advanced aerodynamics and venting, a 6-point TeamTech harness and tow hooks. The body is mostly carbon fiber while the wing and rear strakes are aluminum. It weighs less than 3400 lbs. My previous 2 Vipers, a '96 blue/white GTS, which was mostly stock, and a '03 SRT-10 red/silver convertible, which was heavily modified and ran a Paxton-Novi supercharger with a water-meth system, making 700 wheel hp, were both great. However, this '16 is much better in all categories than the '96 and '03 (except for the '03's big-time hp). It's more controllable, puts the power down well, has a much, much higher limit on the race track making it very competitive, better brakes and has an improved interior - even has cruise control for those longer trips, SRT Performance Pages to monitor engine functions, launch control, nav and more!! I call her Lola and I've owned it for 1 1/2 years now. It's a great conversation starter resulting in many new friends. I absolutely enjoy it because it keeps me smiling, just like our Club President, Smilin' Ed! Please click the Viper image below to view Al's images he has provided to me. We will likely be posting even more photos between now and October while Al is my FEATURE VEHICLE Mopar during this period. I may even be able to get Al to provide me with a ride so I can offer visitors a sample ride in a Viper too.

Our club meeting for September will be Friday September 28th at 6:30 pm. We will be at the "Palace Station Casino" Please click the logo for the casino link. Members of the club you need to check your email or contact me for more information. We will be parking on the I-15 side of the new parking lot.
..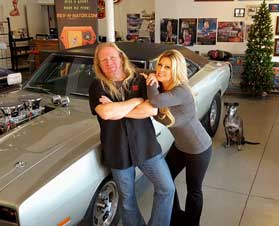 Click on Troy and Laura of "The R/T Garage" Tell Troy and Laura Smilin'Ed sent you. I have the "Rev N Nator" personally on my 1968 Dart GTS tribute convertible. I like it! Click on Troy and Laura to view The RT Garage page.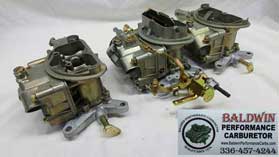 Click Six Pack Carbs to view website of Baldwin Perf.
Smilin' Ed News (Column)
The site was updated September 19th 2018
For the month of September & October we have a 2016 Dodge Viper to show off. Al has been in our club for years now, and this Viper is Al's 3rd Viper since he's been in our club. Al races this Viper, and he drives it regularly and I am happy to show his car off. I have just updated our site to include Al's story on his Snake. Please view that story in the FEATURE VEHICLE column.
If you are visiting the site here don't forget to click on the F to become a Mopar friend if you have a Mopar like we have in our club. that "F" will take you to me on Facebook. The Welcome to Las Vegas sign by clicking that takes you to many cool things here in Las Vegas. By clicking on Al's Viper will open his photo gallery or in the FEATURE column you can click the Viper image to open his photos too.
I formed this club in July 2002 with the idea I just wanted a few more cool Mopars to park my 1969 GTX by. I have very simple rules in our club. If you think you want to be a part of the club simply contact me. I will be more than happy to send you the club rules to become a part of this "Private Club".



.. Contact Smilin'Ed by clicking the Envelope or the Facebook icon for the club's Facebook. Wish to become a member? Email me, I will reply with the club rules.
The club is FREE and I have begun this month to allow members in our club that own a business to shine with their own Mopar and give special thanks for the period(s) they wish to dontate for this website's operation of HOSTING fees. The current operational cost(s) demand I ask for donations or I will be forced to allow this website to close down. Below is our first display I will begin doing when any business member wishes to donate for at least 6 months cost(s). Dan a long standing member owns "Puff Vapors" and I have created with his beautiful 1966 Coronet 500 a small display which is a clickable image that will let you see his actual website. I have other business owners in our club you can reach out to simply by clicking the CONTACT.