FEATURE VEHICLE
1969 Plymouth road runner. Gene is a new member to our club, and I welcome him with his road runner coupe. Be sure to click on the logo, or the car to view more photos of Gene's bird. Below is Gene's story of owning his road runner:
I bought the car in 1986 for $2400, I'm the 3rd owner, the car was built in California. The original owner was Hondas Auto Leasing Inc. The dealer was O.K. Haas Inc. in Santa Anna California. The 2nd owner was someone in Tuscon Az. The car has a built up 383, bored .030 over, mild street cam, heads are ported and polished and stainless inserts. Edelbrock high rise intake manifold. Holly 650 single pump carb, Hooker exhaust manifold with a Flowmaster exhaust set up. Transmission is a 727 automatic with a shift kit and stall converter, 3.23 gears in the back. The Car is an amateur restoration, done by friends in Northern Illinois and Southern Wisconsin. The road runner is a matching numbers car and has only 59000 original miles.
The car also wears 15 in. wheels and has Wildwood disc brakes and is also an A/C factory car.
The photos are in FLASH you won't be able to view the images unless you have Adobe Flash. Click Gene's road runner below to see his car.
EVENTS AND MEETINGS
Members keep in mind I have a club meeting October 24th. It is a private club meeting so I won't be advertising it here. This is a reminder to you that you need to contact me ASAP about attending. This year's October meeting will and should be a very memorable club meeting. I think it may be one of our best ones in the 13 years I have been trying to get Mopars and people all in one location at once. For Vegas Mopars at least. We don't come out to play often.
...

Are old friends Timbers next year we will be returning for regular meetings again! Click logo to visit Timbers and Smilin' Ed thanks the company for years of hosting "Mopars of Las Vegas".
Valley of Fire 2015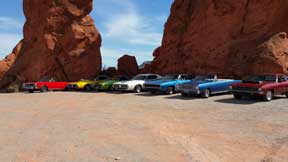 Smilin' Ed News (President)
The site was updated October 3rd 12:50 PM
The Feature Mopar for October is a 1969 Plymouth road runner. Gene is a new member to our club and I welcome Gene to the family with his bird! I just updated Gene's photo gallery of the bird right now. Check this coupe A/C bird out. Be sure to read Gene's story about his pride and joy over in our "FEATURE VEHICLE" column. You can now click on the car, or the door badge image I made below Gene's story.
Are you on Facebook? Yea, Smilin' Ed is on there now. It has only been 13 years. Visit me and Yes I will friend you. Just click on the F icon on the bottom and log on in, takes you right to Facebook page I have set-up.
IF it ever gets to be below 100 degrees, I will begin bringing the club out of hibernation for the summer months here in Vegas. Members that have not contacted me about the club meeting in October, be sure to reach out to me. Details will be provided to you at that point.
I formed this club in July 2002 with the idea I just wanted a few more cool Mopars to park my 1969 GTX by. Over the years this club has grown to be known in many states, and also other parts of the world. As of this date we have 367 vehicles and 228 members in our club and we continue to keep growing! We have very simple rules in our club with no dues. If you think you want to be a part of us simply contact me. I will be more than happy to send you the club rules to become a part of this "Private Club". Thank you, and enjoy our Mopars! We do!
Click my (Dash / Headlight) button below to view Smilin' Ed's personal page where I have photos of my 1969 Plymouth GTX and " KRISSY", my 1968 Dodge Dart GTS Convertible. (clone) You can Email me too with the Envelope. AND... Sit down for those that know me! I have added yes, a Facebook icon for the club's Facebook. Click on it and it's my Smilin' Ed page. If you just need to do Facebook go on out and send me a request and when I get to it I will accept you as a friend if I know you. It is always best to just email me if anyone really wishes to reach me.