FEATURE VEHICLE
This month's Mopar is a 1972 Dodge Demon 340 five speed car too! Dave is a new member to Mopars of Las Vegas and it's an honor to post this cool Mopar to show off to all that visit our club website. Here is Dave's story:
Thanks for being asked to feature my Demon. I got into Mopar's living down in south Florida . My brother was heavy in Mopar's so he introduced me to all the muscle cars mainly cuda's and Dodge Darts . I would up buying 3 cars a 71 cuda 73 Challenger and a 71 Duster and tons of parts. But sold all my cars and parts and moved to Vegas in 1993. Without any cars to tinker with although I was heavy into 4wd mainly older bronco's. Had a fully restored 73 Bronco for a few years daily driver with a hot 302 and a/c . Raising kids for years after always wanted a little A body mopar. So fast forward to 2016 started looking for a Demon turned out there was this guy who had a 72 Demon 340 h code fe5 red but with a twist it has a Tremac 5 sp O/D with a 4:10 gear . (Now 3.55 suregrip) Motor is date coded 72 built to a 70 specs but with a solid cam . Made a deal and shipped the car to Vegas in the summer of 2016. I since have done some of my own custom's to it. Bigger disc brakes, QA1 control arms, welded lowers and pst torsion bars . Car handles great and while maintaining a 'stock look' just with a few twists . My future plans to upgrade to a borgensen steering box and maybe fuel injection. Thanks for the feature month.
.Please click on Dave's Demon for full the photo gallery.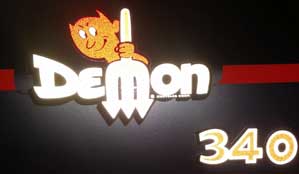 Smilin' Ed News (President)
The site was updated July 2nd 11:00 PM



Click my (Dash / Headlight) button above to view Smilin' Ed's personal page where I have photos of my 1969 Plymouth GTX and " KRISSY", my 1968 Dodge Dart GTS Convertible. (clone) You can Email me clicking the Envelope or the Facebook icon for the club's Facebook. It is always best to just email me if anyone really wishes to reach me.
The Feature Mopar for July is a 1972 Dodge Demon (old school Demon). Be sure to view Dave's story in the FEATURE Column. I am updating the website with photos of the car today. Be sure to check back here and there. I also want to notify members that view the site be sure you got a club email from me yesterday. I lost my distribution list (deleted I guess). I had to create a new one in the weeearly hours and wrote to members. If you didn't get that email be sure to write me! This month is the club's 15th year of attempting to keep Mopars in Vegas known. Thank you for your support around the world and here in the USA. Smilin' Ed
I formed this club in July 2002 with the idea I just wanted a few more cool Mopars to park my 1969 GTX by. Over the years this club has grown to be known in many states, and also other parts of the world. As of this date we have 367 vehicles and 228 members in our club and we continue to keep growing! We have very simple rules in our club with no dues. If you think you want to be a part of us simply contact me. I will be more than happy to send you the club rules to become a part of this "Private Club". Thank you, and enjoy our Mopars.