FEATURE VEHICLE
Our June Home Page is a 1964 Dodge Polara. Don was just added to our club ranks today! I asked Don to write me his story and here it is: Well my 1964 Polara has a 440 mild you know .030 over Keith Black pistons etc factory High perf exhaust manifolds also duel 750 webers with hard to find Credits Mopar air cleaners. Recently gone through too. A 727 B&M stall converter again recently gone through! My rear is a sure grip 8 3/4 with 3:91gears...with Moser engineering axles and bearings... it's a nice drivable car. The reason I love Mopars has be when my Dad brought home a 1968 R/T Charger, man the car was beautiful! Fast and fun. I bought it from him a few years back but with twins economy lay offs I couldn't keep up with it and I felt it deserved more so I sold it with a broken heart!
The club logo below you can click and will open in your browser a FLASH photo gallery.

EVENTS AND MEETINGS
Club will plan a evening meeting in June.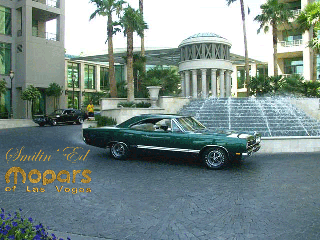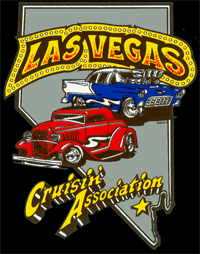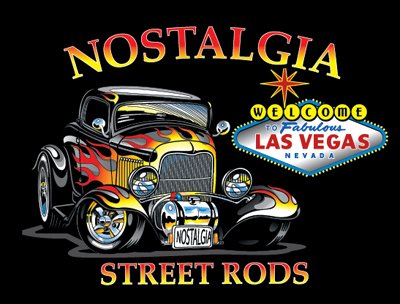 Friends of our club please visit Las Vegas Cruisin' Association and Nostalgia Street Rods. If you love cars click the images for links to their website. Cool stuff! Below is yet another link I created to other clubs in Vegas! Click that logo below for even more. Enjoy Smilin' Ed

Valley of Fire 2015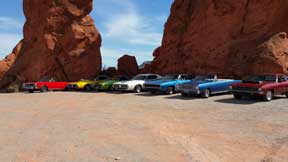 Timbers Group has been friends of our club since I formed this club. Our club has a meeting every 3rd Wednesday at a local Timbers Bar and Grill while 2016 Vegas temperature will support great weather. The month of March may not happen as Muscle Cars at the Strip is a major event and the club also needs to be planning for the Spring Run toward Valley of Fire, or Lake Mead. Details TBA.
Smilin' Ed News (President)
The site was updated June 12th 7:58 AM
The Feature Mopar for June is a 1964 Dodge Polara. Don is new to our club as of today too. Don comes from a family of Mopars too! Please read his story submitted to me today. It's over in the FEATURE VEHICLE column.
I formed this club in July 2002 with the idea I just wanted a few more cool Mopars to park my 1969 GTX by. Over the years this club has grown to be known in many states, and also other parts of the world. As of this date we have 367 vehicles and 228 members in our club and we continue to keep growing! We have very simple rules in our club with no dues. If you think you want to be a part of us simply contact me. I will be more than happy to send you the club rules to become a part of this "Private Club". Thank you, and enjoy our Mopars! We do!
Click my (Dash / Headlight) button below to view Smilin' Ed's personal page where I have photos of my 1969 Plymouth GTX and " KRISSY", my 1968 Dodge Dart GTS Convertible. (clone) You can Email me too with the Envelope. AND... Sit down for those that know me! I have added yes, a Facebook icon for the club's Facebook. Click on it and it's my Smilin' Ed page. If you just need to do Facebook go on out and send me a request and when I get to it I will accept you as a friend if I know you. It is always best to just email me if anyone really wishes to reach me.