FEATURE VEHICLE
This month's Mopar is a 1970 HEMI Plymouth Superbird. Mike has been a member just about since I formed our club too. The majority of gearheads/automobile aficionados remember the first time they saw "the car", whether it is a Camaro, Mustang, Oldsmobile, hot rod, rat rod, custom, or in my case, a Mopar.  I can recall the first time I saw a 1970 Plymouth Superbird many years ago, with my initial response being "wow"!  Unfortunately, life and/or the day job can get in way of fulfilling your dream.  My pursuit of Mopars definitely heated up after landing in Las Vegas and deciding that this was our home to stay.  My initial daily driver was a 1969 Plymouth Satellite, and I immediately replaced the 318 with a 360 Magnum crate motor, beefed up 904 transmission, etc.  As the same time, I was also designing a 1947 Dodge radical full custom, complete with 392 HEMI, entitled Swoopy.  Since completion, Swoopy has been prominently featured at numerous noteworthy events, including the SEMA Show, Barrett-Jackson, as well as car shows held in Tulsa, OK, Louisville, KY, Boise, ID, and numerous events in California from Sacramento to San Diego.  While working with a series of companies on the build, I had the opportunity to meet an individual with a one-man shop near Diamond Bar, CA.  He specialized in concourse restorations, with about 10 cars at his garage, including a Plymouth Superbird.  My wife was very amused watching my eyes glaze over, having difficulty breathing, etc.  While my blood was definitely boiling, I also appreciated that we couldn't afford this type of high end collectible.
I've also had the pleasure to serve as Announcer/Emcee since inception of the Mopars at the Strip event held here in Las Vegas each year, recently rebranded as Muscle Cars at the Strip.  Yep, I was definitely in Mopar heaven, including having the opportunity to meet a series of wing car owners.  All of them shared this sense of awe regarding their unique vehicle, as well as a keen appreciation of what it took to acquire their rolling work of automotive art.  Fast forward to Gateway Raceway near St. Louis, MO, where I served as guest announcer for their annual Monster Mopars motorsports weekend.  In addition to hundreds of Mopars of all shapes and sizes, there were 42 Daytona's/Superbird's in attendance.  While raving about this number of wing cars at one location over the PA system, I was offered the opportunity to drive a 440 six pack, four speed, 'Bird.  After being encouraged by the owner (who was riding shotgun) to "jump on it", I was transported back in time while banging the gears and listening to the purr of a big block Mopar motor.  Needless to say, the die was cast for me to add a 1970 Plymouth Superbird to my humble collection. To coin an old phrase, good things come to those that wait, and this year I found "the car" during the 4th of July weekend.  This stunning tribute had recently completed a complete restoration, with every component being new or NOS, including drive train, suspension, wiring, interior, etc.  Not only was this a brand new 'Bird, I had found one with the perfect drive train.  Namely, 426 HEMI with dual four-barrel carburetors, four speed transmission, and Dana 60 rear.  Once again, I had trouble breathing, eyes were glazing over, etc.  Yep, full blown symptoms of "Bird Flu".  After a series of conference calls with leading authorities in the Mopar realm, I realized how unique this car truly was. Mary, who is definitely my better half, give her full endorsement, complete with two thumbs up.  After finalizing all of the requisite paperwork, I am now the very proud, and slightly stunned, owner of a 426 HEMI 'Bird.  As I've told numerous friends and co-workers, the whole experience is still a little surreal, especially considering the long journey to get here.  Having said that, I very quickly realize how real all of this is when I go through the gears and get pushed back in the seat as the thunderous roar of the HEMI begins to build.  By the way, I'll be fairly easy to find at local car gatherings.  Just look for the guy with a huge smile frozen on his face.  After all, I have the love of the best friend of my life, along with "the car".  In my humble opinion, it simply doesn't get any better than that.  See ya' on the road, hopefully you can keep up, grin.     
Mike's photos are now posted Click the road runner below. Smilin' Ed
EVENTS AND ARTICLES
Oct 13th - 15th Club meeting (see below)
Sept to Dec EVENTS: (* not all MLV*)

9/22-9/24 Mesquite Super Run
http://www.lasvegascarshows.com
9/22-9/23 Water Street Show
https://www.waterstreetcarshow.com
Mopars of LV Club Meeting 10/13 - 10/15
Romeo's Relic Racing in Boulder City, members have been emailed on details. If you need more information be sure to contact me please (no Poker Run this year). Members need to contact me on what food you can bring please. You are going to have opportunities to help our member out by cleaning out his memorbilia, tools, even a HEMI car will be up FOR SALE! Don't miss out on our very first club meeting to run over an entire weekend! Romeo wanted all to have a chance to show up regardless of your schedule. I am planning on being there for the entire 3 days with one of my Mopars too. Maybe both will be there.
It's a Garage Sale & a Potluck and we will take a Cruise too from this meeting!
October 13th 6pm - 9pm
October 14th 9am - 3pm
October 15th 9am - 3pm
10/28 Chrysler Performance West
http://www.cpwclub.com/fallfling.php
10/19-10/21 Barrett Jackson
https://www.barrett-jackson.com
10/27-10/29 NHRA Drags

10/31-11/3 SEMA
https://www.semashow.com/the-sema-show
Sept - Dec Drag Racing Dates
http://www.lvms.com/dragstrip/tickets_schedule
11/4 Goldstrom's Show
https://nostalgiastreetrods.com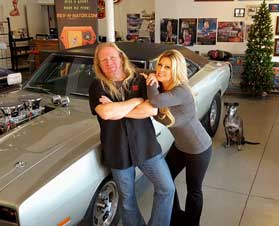 Click on Troy and Laura of "The R/T Garage"
Smilin' Ed News (President)
The site was updated September 16th 7:27 pm



Click my (Dash / Headlight) button above to view Smilin' Ed's personal page where I have photos of my 1969 Plymouth GTX and " KRISSY", my 1968 Dodge Dart GTS Convertible. (clone) You can Email me clicking the Envelope or the Facebook icon for the club's Facebook. It is always best to just email me if anyone really wishes to reach me.
The Feature Mopar for September is a 1970 HEMI Superbird. Mike's bird sports the infamous Pistol Grip shifter and a Dana 60 too. The website and Mike's photo gallery are finally current. You can click his Superbird to open up the photo gallery or after reading Mike's story at the bottom is a road runner icon. Click that and his photo gallery will then open there too. Smilin' Ed
Members of the club, NOTE.. We are not this October going to have our Poker Run. Instead I am teaming up with a member that has a garage in Boulder City to have a (3) day car club meeting, potluck and a drive on the weekends posted. This should be different and you have a great opportunity to pick up some tools, and other cool stuff being offered. Our minor children will be welcomed there not like some of the establishments in past Poker Runs don't allow. Members with racing gears, they can simply make it out to the shop and park and we can enjoy your Mopars that way sitting too without worrying about over reving your Mopars on a highway or overheating too! I have posted a list of local car events around Vegas to look into too.
I formed this club in July 2002 with the idea I just wanted a few more cool Mopars to park my 1969 GTX by. Over the years this club has grown to be known in many states, and also other parts of the world. As of this date we have 367 vehicles and 228 members in our club and we continue to keep growing! We have very simple rules in our club with no dues. If you think you want to be a part of us simply contact me. I will be more than happy to send you the club rules to become a part of this "Private Club". Thank you, and enjoy our Mopars.