FEATURE VEHICLE
The Feature Vehicle the next two months is a 1969 road runner. Rick is one of my newer members and below is his story I asked Rick to present for showing off his bird: Hey mopar lovers, my name is Rick and I own a 1969 Plymouth Roadrunner. Back in the day I owned a 1968 roadrunner at the ripe age of 20 yrs. old,boy did I have fun with that beast, all 10 yrs that I owned it. A very learning experience and a lot of hard work building on that vehicle. After I sold that car I faded away from muscle cars until 2016 when I found this 1969 roadrunner and fell in love with it. I have had the engine rebuilt. It has a 383 motor with 11½ to 1 KP pistons, Eagle H Beam rods, Speed Pro rings, a nice racing cam, aluminum heads, and assembly is balanced. Running a semi high rise Edelbrock intake manifold with a 750 double pumpHolly carburetor, MSD ignition, a four speed transmission with a pistol grip shifter.I have a lot of fun driving around town, get a lot of thumbs up and have met many new friends. Why after all Ed saw me driving around and tracked me down and now I am a member of Mopars of Las Vegas. What a guy he is. Not only that he just happens to be my neighbor. Take a look at the pictures, it sure is a pretty looking mopar.
Our club meeting for November 18th has been scheduled. Members you need to check your club email please.
..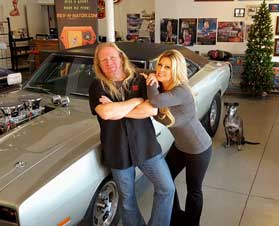 Click on Troy and Laura of "The R/T Garage" Tell Troy and Laura Smilin'Ed sent you. I have the "Rev N Nator" personally on my 1968 Dart GTS tribute convertible. I like it! Click on Troy and Laura to view The RT Garage page.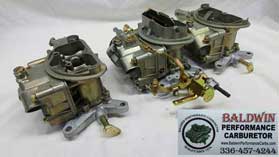 Click Six Pack Carbs to view website of Baldwin Perf.
Smilin' Ed News (Column)
The site was updated November 6th 2018
For the month of November & December we have a 1969 Plymouth road runner to show off. Rick has been in our club only a short while. I personally like many other members in my club, I seen this cool road runner rolling along the streets of Vegas. I followed the trail if you will (Rick) to his bird's nest and asked him if he wanted to be a part of what I do here in my car club. Sure enough after visting, Rick and his 1969 road runner is a part of my ever growing hobby I call "Mopars of Las Vegas" Please check out Rick's story in the FEATURE VEHICLE column.
I had some great service from this company here most reently "Cobra Transmission" I have posted a friendly link to "Cobra Transmission". You can click this image here now

My 1975 Dodge Power Wagon needed seal parts, and this company had my parts. They may be able to help some of my Mopar contacts too.
If you are visiting the site here don't forget to click on the F to become a Mopar friend if you have a Mopar like we have in our club. that "F" will take you to me on Facebook. The Welcome to Las Vegas sign by clicking that takes you to many cool things here in Las Vegas. By clicking on Al's Viper will open his photo gallery or in the FEATURE column you can click the Viper image to open his photos too.
I formed this club in July 2002 with the idea I just wanted a few more cool Mopars to park my 1969 GTX by. I have very simple rules in our club. If you think you want to be a part of the club simply contact me. I will be more than happy to send you the club rules to become a part of this "Private Club".



.. Contact Smilin'Ed by clicking the Envelope or the Facebook icon for the club's Facebook. Wish to become a member? Email me, I will reply with the club rules.
The club is FREE and I have begun this month to allow members in our club that own a business to shine with their own Mopar and give special thanks for the period(s) they wish to dontate for this website's operation of HOSTING fees. The current operational cost(s) demand I ask for donations or I will be forced to allow this website to close down. Below is our first display I will begin doing when any business member wishes to donate for at least 6 months cost(s). Dan a long standing member owns "Puff Vapors" and I have created with his beautiful 1966 Coronet 500 a small display which is a clickable image that will let you see his actual website. I have other business owners in our club you can reach out to simply by clicking the CONTACT.